Are you using a face scrub in your skincare regime? If not, you are ignoring a plethora of benefits these products provide to your face. The face scrub is a vital step in your healthy skincare. It helps to remove dead skin, cleans the pores, and removes stubborn impurities from the skin. Additionally, it improves blood circulation, evens skin tone, and gives your face an instant glow. Here, Biotique Gel Face Scrub is an excellent product which suits all skin types and consists of all-natural ingredients. Biotique is a prominent beauty brand catering to all your skin concerns with all ayurvedic and botanical products. Let's find out how to get clear, glowing skin using this face scrub.
How do face scrubs work?
A face scrub is a skincare product which helps to exfoliate your skin. Using exfoliation, you can easily remove the dead skin from the skin surface and clogged pores. Clogged pores result in acne and breakouts, which leads to further skin issues. Clean pores lead to clear skin. The scrub has coarse particles to help with scrubbing. Therefore, when you rub your face scrub against your skin, these particles remove all the dirt from your pores. Also, it aids in removing dead skin, which gives you naturally glowing skin. Use of natural and botanical Biotique Gel Face Scrub in your weekly skincare regime results in healthy and glowing skin. Let's know more about this product and its ingredients.
Biotique Rice Water & Niacinamide Gel Face Scrub
This product exfoliates and polishes the complexion. It gives you unclogged and clean pores. It has the beneficial properties of rice water and Niacinamide. Rice water is a very popular ingredient to clear the skin and give you a glass-like glow. Niacinamide exfoliates dead skin and helps with open pores. You'll love the way your face feels after using this exfoliating face scrub. Look at the benefits of face scrub:
Cleans and unclogs pores gently.
A good fit for all skin types.
Contains no toxic chemicals.
Brighten the skin complexion.
Embedded with 100% botanical ingredients.
A dermatologically tested product.
Gives a glass-like glow.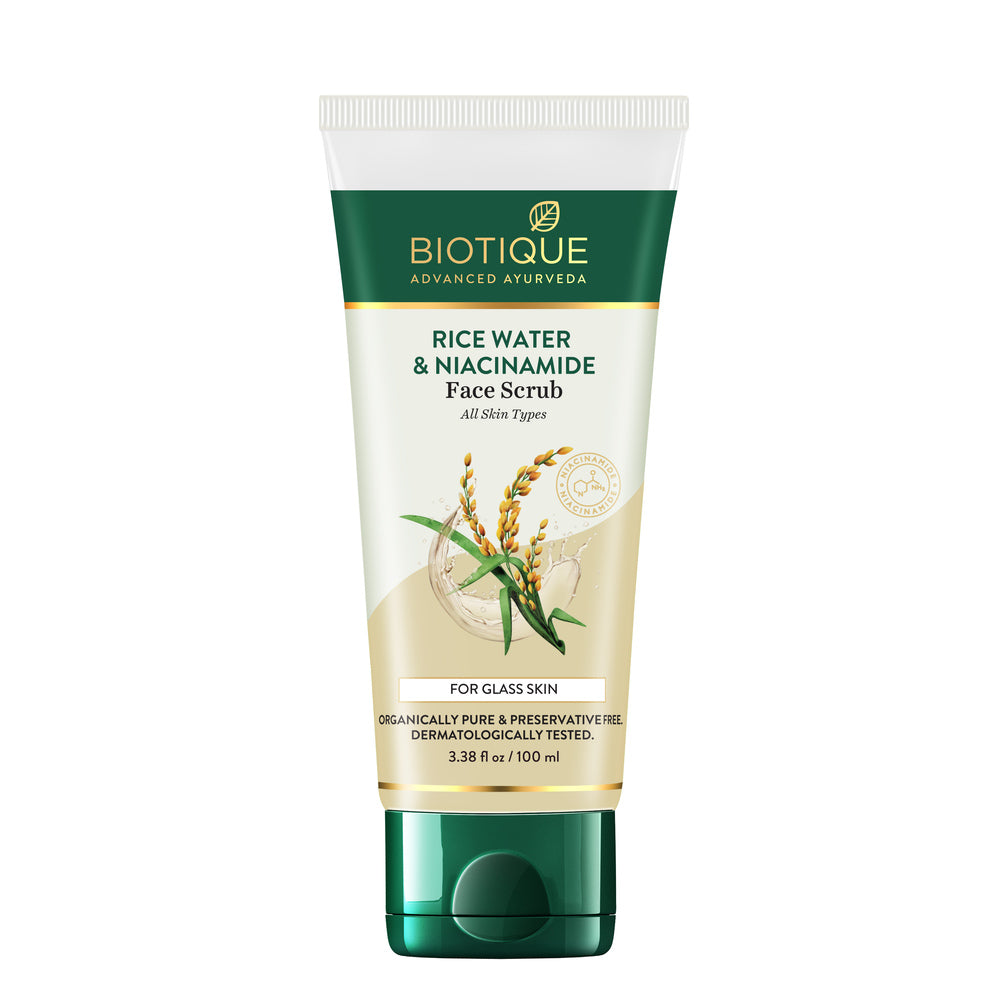 Benefits of face scrub
Facial scrubs have its presence from ancient times when people used to use abrasive objects for skin exfoliation. However, in modern times there are many excellent ingredients which provide more benefits rather than just exfoliating. In order to know how to get glowing skin naturally with these face scrubs, let's take a look at their benefits:
1) Get rid of dead skin cells.
The first benefit of a scrub is to remove dead skin cells from your face. With dead skin cells, your face looks dull and dry. In addition, it will clog your pores. Face scrub exfoliates the skin deeply and eliminates dead skin cells.
2) Removes clogs from the skin's pores.
Our body produces a natural oil called sebum to moisturise the skin. But sometimes, the production becomes too much, and the excess of sebum oil clogs the skin pores. This causes acne and breakouts. Exfoliating face scrub removes the excess sebum oil and cleans the pores.
3) Reduces flake residue.
The dry patches on some people's skin are known as flakes. These flakes make the face look dull and very dry. Scrubbing helps to remove these flakes effectively and gives you smooth skin. Regular use of the scrub brightens the skin.
4) Assists in reducing acne scars.
Face scrubbing help in fading away the acne scars and dark patches on the skin. Scrubs have a phishing effect on the skin, resulting in resurfacing. It removes dead and damaged skin. Also, the natural brightening ingredients aid in treating the scars.
5) Protects against ingrown hair.
Ingrown hairs are a result of hair growth inwards. It causes pain, inflammation and itching on the skin. These ingrown can be due to the hair removal process on the face and sometimes due to clogged pores. Moreover, these ingrown lead to pimples popping up. Facial scrub is an excellent way to get rid of stubborn ingrown hair and saves your facial appearance.
6) Boosts the texture of the skin.
With regular and consistent use of face scrub, your skin will become radiant and smooth. Facial skin is more delicate, thinner, and more vulnerable to damage compared to other parts of the body. It gets easily damaged by pollution, poor skin care etc. A facial scrub helps rejuvenate and renew the skin.
7) Skincare products absorb better.
As dead skin cells accumulate on your skin, you will not see the desired results from other beauty products. As a result of this buildup, beauty products cannot absorb into the skin. For maximum benefit, exfoliate and remove these dead skin layers before using any other product.
8) Prevents Premature Aging
Premature Ageing happens due to free movements of radicals on the face skin. This process agitates with UV rays and leads to loosening skin. Additionally, the skin becomes dry as we age due to the accumulation of dead skin. It results in dry, flaky skin with fine lines and wrinkles. Regularly scrubbing the skin helps to remove dead cells and promotes health and youth.
How does face wash and face scrub differ?
The major difference between both the products is the texture. The face wash is smooth in texture, but a face scrub has grains in it to exfoliate the skin. The purpose is also not similar. Face wash cleans the dirt, dust, and pathogens from your face gently daily. On the other hand, face scrub does a deep cleansing of the pores and also removes dead skin. The recommended frequency of exfoliation is once or twice a week. Here, the similarity is both are an essential part of skincare. You can use Biotique Rice Water & Niacinamide Gel Face Wash for daily cleansing.
How to use a face scrub at home?
It is crucial to know how to use a face scrub correctly and effectively to enjoy these amazing benefits. Follow these steps:
Cleanse your face thoroughly with water. Leave it wet.
Take a pea-size face scrub on your palm. Apply it all over the face as well as the neck area.
Gently rub it with your fingers in circular motions on the face. Don't give too much pressure.
Always massage in an upwards motion, as well as pay attention to the areas such as your nose, cheeks, and upper lips.
Continue the process and slowly move to the neck and the under-chin area. Massage gently.
After a half minute of exfoliation, rinse with water. Use cold or lukewarm water.
You can gently pat your face dry with a towel. You can notice an instant glow on your face.
Apply a moisturiser afterwards. Massage moisturiser into the skin until it is absorbed. Moisturisers such as Biotique Rice Water Gel are good choices.
Wrapping Up
Now that you know how to get spotless skin naturally at home with face scrubs. The next step is to include Biotique Face Scrub in your skincare regime. Keep this product handy at your home to get the instant glow any time you want. You can scrub, tone, and moisturise with rice water and the Niacinamide range of Biotique products. Always select skincare based on natural and chemical-free ingredients to get a natural glow. The benefits of face scrubs go beyond exfoliation, as mentioned above. Follow the steps carefully and explore other products in the same range. Enjoy healthy, radiant skin with Biotique Rice Water & Niacinamide Gel Face Scrub.